The SENA Leather Wallet Trio

SENA is known for its high quality leather craftmanship.

It is no doubt that we are one of the most trusted leather brands in the industry which is why we are extremely proud to unveil a new collection.
Made with our signature Nappa leather, we designed three wallets with impeccable style and quality that is meant to last. We want to offer more than device-specific products to our beloved customers which is why we created the SENA leather trio.
Comprised of a card holder, a bi-fold wallet and a travel wallet, this exclusive collection caters to men with different preferences.
Take a look below to see what our newest collection has to offer.
Each of these wallets come with complimentary personalization for a limited time only. Use code TRIO at checkout to save $12.99.
Travel light, worry less. The first ever SENA card holder was designed for men who prefer to have only the essentials at hand.
The Deen card holder is made out of the same Nappa leather from our wildly popular Deen collection
Made with our trademark premium leather and polka dot lining, this lightweight cardholder is extremely useful. While it is deceptively small in size, it can carry multiple cards and even bills.
It's all about having everything you need in a premium full-grain leather Sena cardholder.
Comes with RFID protection, 4 credit card slots and 1 slip pocket. Available in the two classic SENA colors: Black and Saddle.
This SENA product can be personalized. Use code TRIO at checkout for free personalization (valued at $12.99).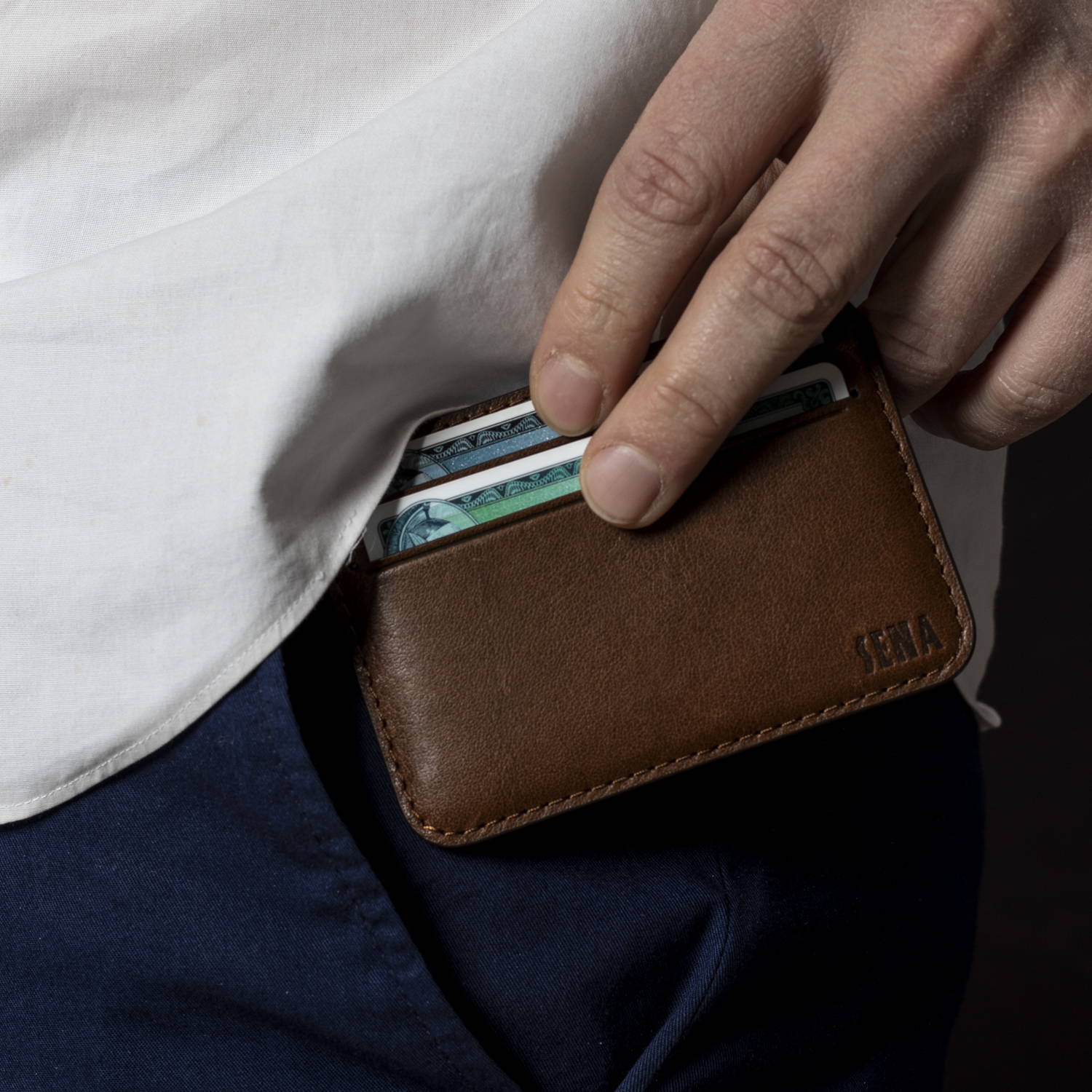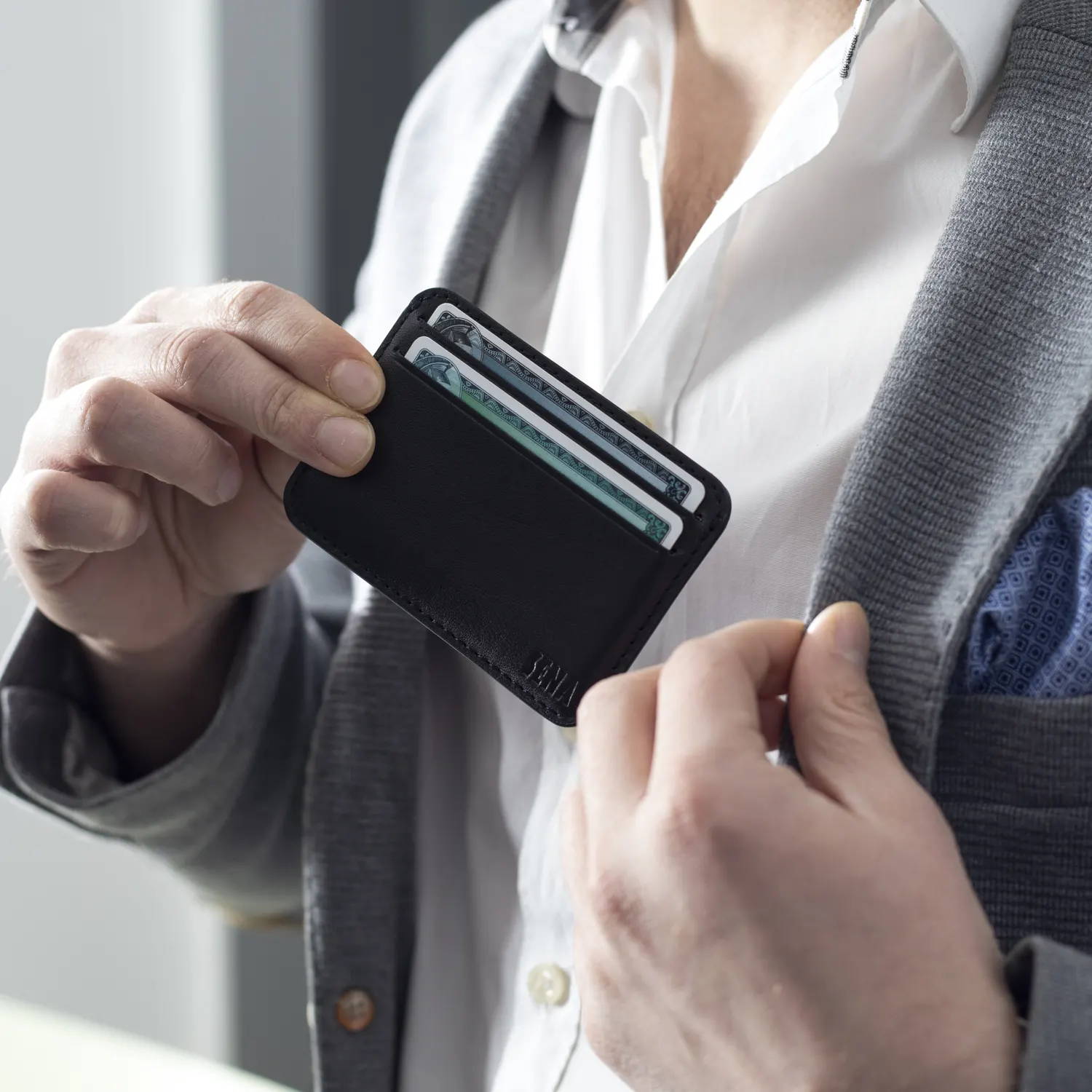 ---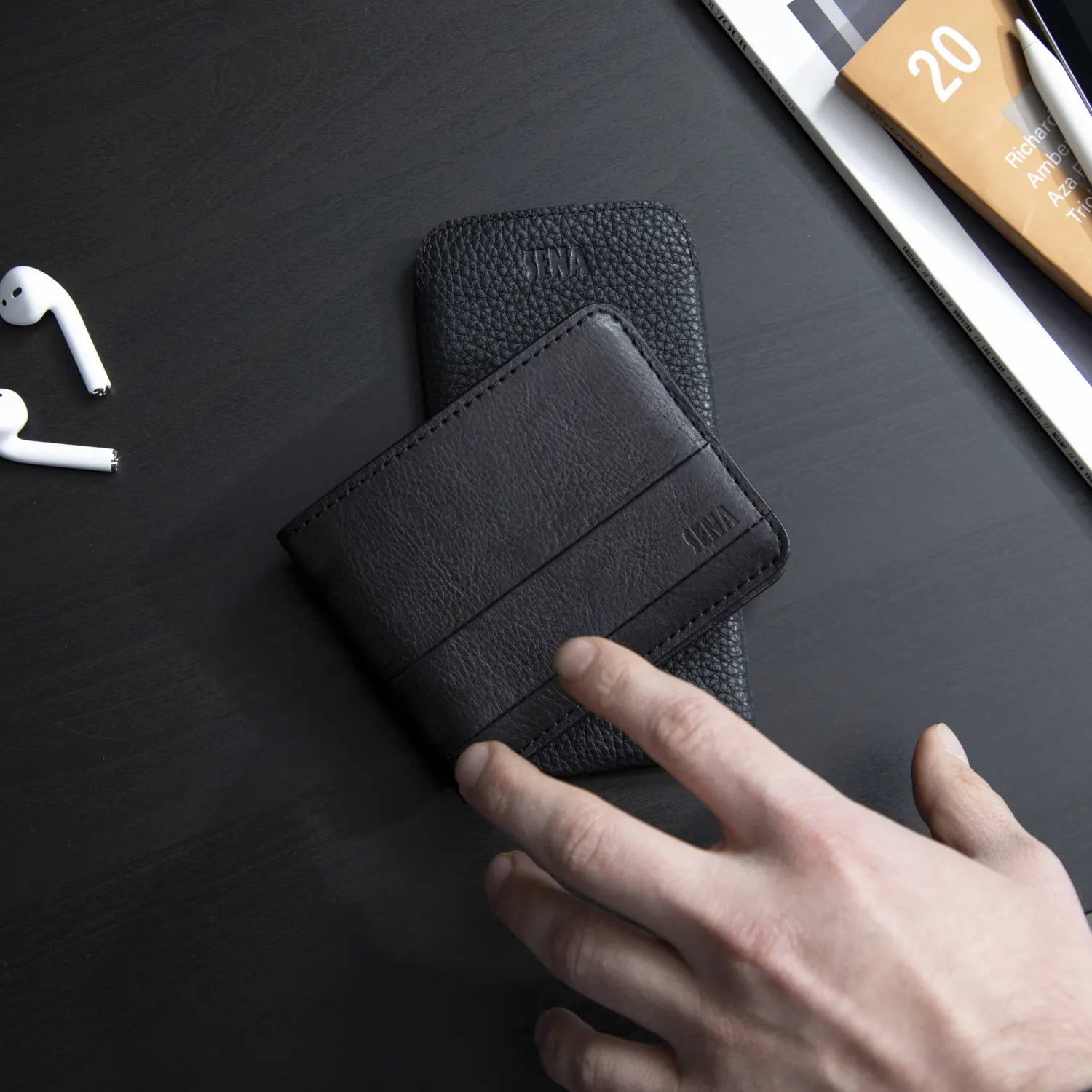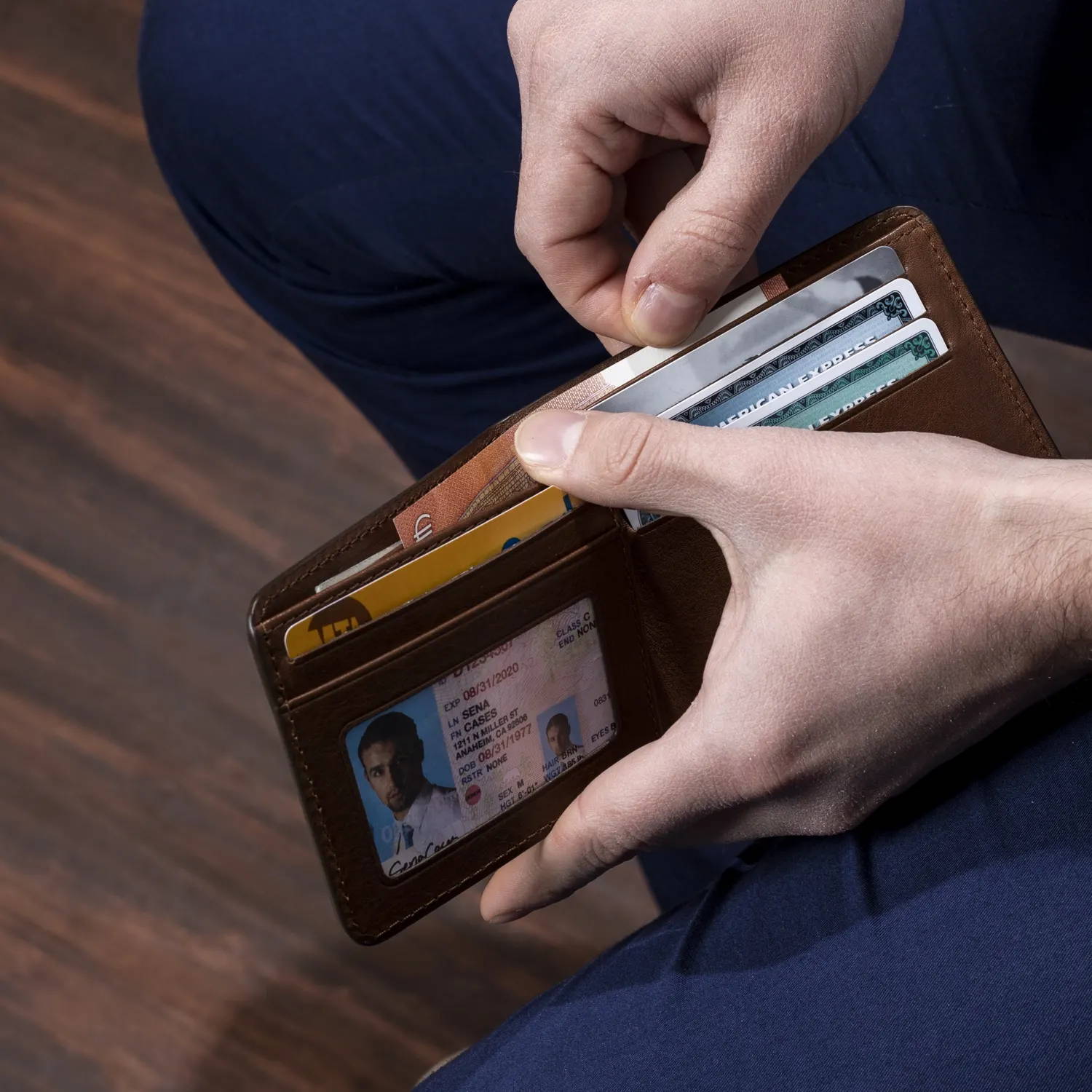 What's in your pocket?
Exude class and sophistication with our Deen bi-fold wallet. Made of luxurious Nappa leather, our timeless Deen bifold features multiple card slots and our signature polka dot lining.
Aside from a very timeless and classic look, our first ever bi-fold wallet also features RFID protection, an ID window, six credit card slots and two currency pockets.
Made for the modern day gentleman, our first ever Sena leather bi-fold wallet is sure to be a classic staple in every gentleman's pocket. The rich leather and sturdy stitching offers the same excellent quality as our well-loved leather cases.
This SENA product can be personalized. Use code TRIO at checkout for free personalization (valued at $12.99).
---
The Deen Zip-Around Travel Wallet

Designed with the constant traveler in mind, the first ever Sena leather travel wallet has many features to suit every jetsetter.
The all-around durable zip closure ensures maximum security for travel documents and currency.
While this is one of the first ventures of Sena to delve into non-device specific products, this travel wallet actually fits up to a 6.5" phone.
This product also has a built-in passport pocket, a sim card slot with pen holder for convenience. Just like the Deen bi-fold wallet, this leather travel wallet comes with two currency pockets.
Another useful feature is the front pocket which provides quick access to documents needed for your flight such as boarding passes and passports. The Deen travel wallet is designed to make travelling more convenient, secure and of course, stylish.
This SENA product can be personalized. Use code TRIO at checkout for free personalization (valued at $12.99).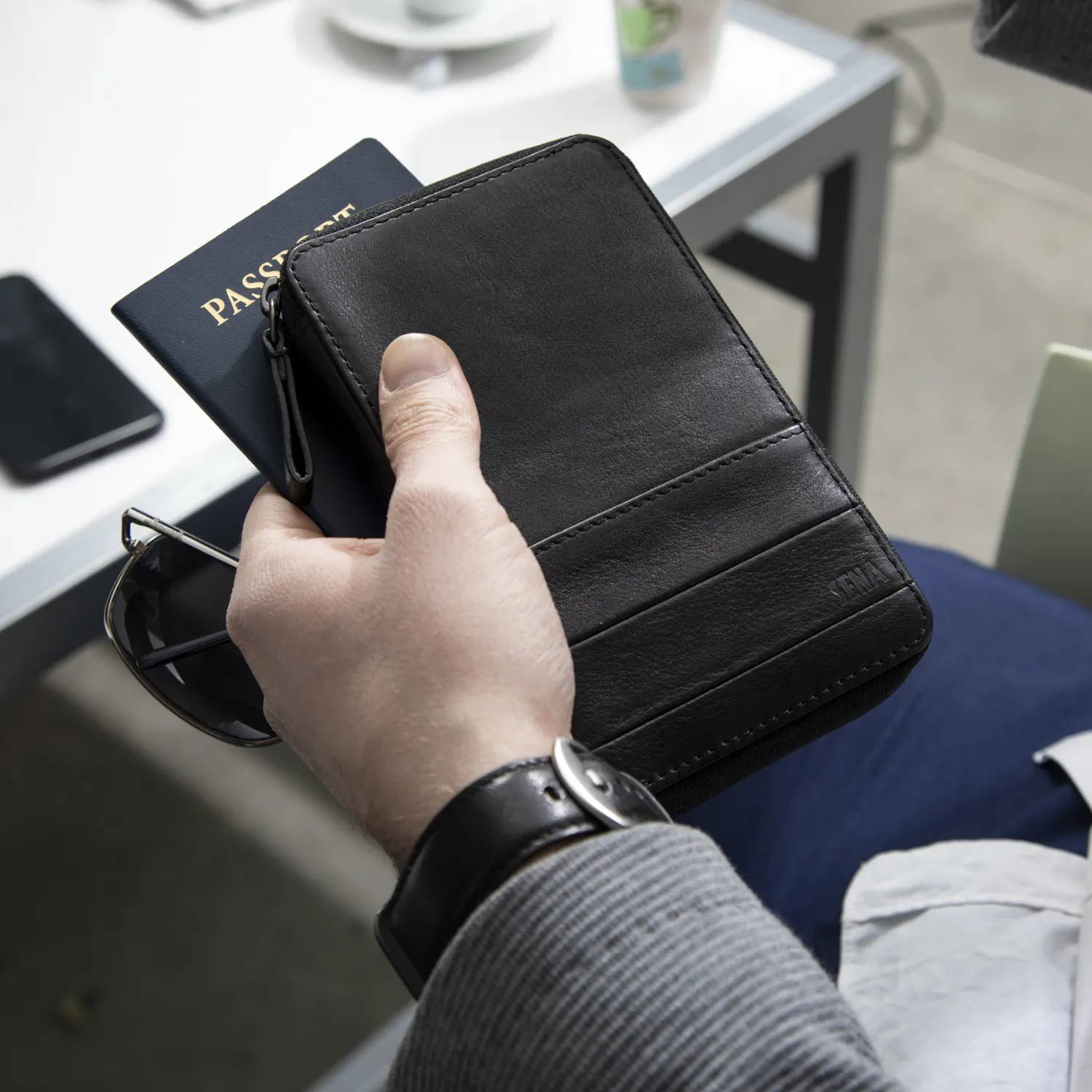 ---